From the Superintendent
NOTE: This is Part 1 of a five-part series around MSAD #51 communication that I will be addressing in order to be as transparent as possible about why, when, and how our district communicates (or does not) around topics of importance to students, parents, and staff. It is my hope that by the end of this series, even if you may not agree with everything I have written, that at least you feel there is some measure of clarity about MSAD #51 communications.WHY Are We Talking About Communication?
Until recently, schools were largely the sole source of information about what was happening in public education, using traditional communication tools that were mostly one-way in nature and not particularly time-sensitive. Over the last two decades, there has been an increasing reliance on diversified digital platforms, including social media, as a key source of communication and information, including news about schools and school districts.
This can be very positive, but at times can be frustrating when inaccurate information and rumors are circulated. It also can be frustrating when stakeholders do not know why the school district or individual schools are, or are not, communicating in a way that may be expected or hoped for.
During the pandemic, it was essential for the district as a whole to communicate consistently and with one voice around health protocols, given that there were many prescriptive and fluctuating rules coming from the state level. Whether you were in agreement with these protocols or not, we were nonetheless obligated to ensure a level of general safety based on the requirements, expectations, and information available at that time. During the pandemic, communication was largely streamlined with the Board, Superintendent, and district-level notifications and updates being the main source.
In the post-pandemic era that started about a year ago, we have moved away from this district-level communication back to pre-covid times when most communication came from individual principals and teachers. However, I have noticed that there has been a continued expectation from some members of the school community, and perhaps even a comfort level, that the district as a whole keeps providing a majority of the communication to families and other stakeholders.
It is critical when incidents take place at school that could potentially cause concern for our stakeholders that we have a clearly defined communication process in place–one that demonstrates accountability, preserves trust, and builds connections. This process, though, is only as good as our clarity around it. Over the next four weeks, I will make efforts to explain our process as completely as possible in order to demonstrate our commitment to the goals stated above.
UP NEXT: Part 2 "Communication Spheres of Influence"

Regards,
Jeff Porter

Mr. Rollins' Entertainment Production class touring Portland performance venues to learn about industry, standards, and opportunities
Notices from the Office of the Superintendent
Superintendent's Report
Click Here to view the latest Superintendent's Report.
MSAD #51 Kindergarten Registration
Reminder about Kindergarten registration for MSAD #51 (Cumberland-North Yarmouth). If your child will be five years old on or before October 15, 2023, they are eligible to attend kindergarten this fall. You may drop off completed registration packets to the MIW mailbox or mail, scan/email or fax in the completed packets. You will need to provide a picture of your child's original birth certificate, immunization records and proof of residency to complete the packet.
If you have a student currently enrolled in a private school and would like them to attend Mabel I. Wilson School in the fall, please register your child during that week as well.

To obtain registration forms in advance please visit our website (www.miw.msad51.org). We want to ensure all incoming students are included in the placement process for the 2023-24 school year. If you have any questions, please call or email MIW at 829-4825.
Our Libraries Need Your Help!
Each of our libraries here at MSAD #51 are looking for volunteers to help out with various tasks (shelving books, photocopying, checking in books, etc). If you are interested in helping out please fill out a volunteer application: https://www.msad51.org/apps/pages/volunteer. If you have any questions about the process, please contact Tricia Small at the central office at t[email protected].
If you are interested in finding out the specific needs of each of the libraries please contact:
Heather Perkinson (Greely High School): [email protected]
Dorothy Hall-Riddle (Greely Middle School): [email protected]org
Maureen Driscoll (Mabel I. Wilson): [email protected]

Stay Connected
Subscribe to our District's weekly newsletter by clicking here.
Like us on Facebook at MSAD #51
Find us Instagram @msad_51
YouTube Channel MSAD #51

MSAD #51 Board of Directors Information
All meetings will take place at 6:00 pm in the Gyger Room at Greely High School. For those of you unfamiliar with that room, the Gyger Room can be accessed from the GHS parking lot (the side without the electronic sign).
Letter from the Board of Directors
Click Here to view the letter from the Board of Directors regarding the proposed adjoining land ​acquisition.

May 1 - Regular Meeting
Remember you can watch our meetings on YouTube LIVE (http://bit.ly/msad51livevideo).
Links
Meeting Dates, Agendas & Minutes
Board of Directors Meeting Videos
Budget Information 2023-24
Detailed budget information can be found on the District's website at: https://www.msad51.org/apps/pages/budget
BUDGET FAST FACTS:
Taxes
2.87% Cumberland Tax Increase for schools
2.60% North Yarmouth Tax Increase for schools
$61 Cumberland Tax Increase for every $100,000 of assessed property value
$47 North Yarmouth Tax Increase for every $100,000 of assessed property value
Operating Budget Increases
4.60% Fixed Costs
2.1% Strategic Priorities
0.7% Enrollment-related costs (other than temporary space/modular buildings)
Temporary Space (Modular buildings, etc)
$1,423,000 Amount allocated for temporary space (district Reserve fund)
$627,000 Amount allocated for temporary space (FY 23 & 24 operating budgets)
More Information about MSAD #51 Budget
https://www.msad51.org/apps/pages/budget
2023-24 Budget Summary
Important Dates
Community Partners
Our Community Partners are strong supporters of various areas of the school. Without them, our students would not have many of the wonderful opportunities and experiences that they receive.
K-12 Staff Appreciation Week from May 1-5!
The Greely PTO invites you to show extra gratitude to our wonderful staff of MSAD #51 during the week of May 1-5! Please help us shower them with appreciation for all the hard work and dedication. See our flyer below or here for ideas or get creative with your own ideas! The PTO will also be delivering special surprises to the whole staff during the week. Let's make it a memorable week for our amazing staff!
Order Memorabilia With Your Child's Artwork On It!
The Silver Graphics Art Fundraiser is the PTO's spring fundraiser! Check your child's folder for a personalized order form and shop HERE from April 26 - May17. Enter their school access code (MIW23Art or GMS23Art). Great gifts and collectibles for family and friends! Proceeds benefit the art programs at Mabel I. Wilson and Greely Middle School.
Order Your Class-Of Tee-Shirt in Time for Graduation!
The Greely PTO is selling "Class-Of" Shirts again! Choose the graduation year and order a fun gift for both young and graduating students! Also included are some grandparent T's. Place your order HERE for delivery before graduation. All proceeds go to MSAD #51 enrichment programs. Shop is open now until May 7!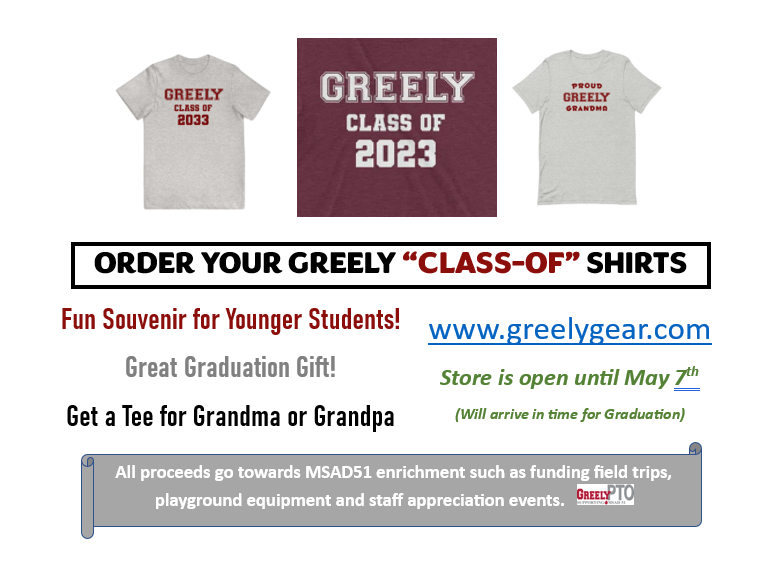 Community Notices
Community Notices are not affiliated with MSAD #51. Please contact the organization directly with any questions. For a full listing of Community Notices, please click HERE.
Useful Links
Greely Center for the Arts Events
If you would like something included in our weekly newsletter, please send a brief write up with title along with a JPEG or PNG image of your flyer (if applicable) to Melissa Porter for approval. The deadline each week is Sunday. Any requests received after Sunday will be reviewed for possible submission in the following week's newsletter. All approved submissions will be posted on the district's website.
Not all items in this email are MSAD #51 sponsored programs. If you need more information, please contact the group or organization that is sponsoring the event.
Maine School Administrative District #51
357 Tuttle Road, PO Box 6A, Cumberland, ME 04021
Contact Us
| 207.829.4800